Oof.
That's really all I can say after last week's match.
Oof.
I don't even feel like it's worthwhile to talk about tactics or preparation or any of that because it ended up not mattering at all.
Let me set the scene.
It was cold, and a little bit drizzly. Fine if you were running, but standing on the bench was an unpleasant experience if you were just in your kit.
Aidan was late, so we started out with Ryan in goal, and unfortunately we conceded within a few minutes. It wasn't Ryan's fault, but there was a bit of a mishap in our back line, and it was an awkward goal to give up all around. But,at around the 10th minute, they own-goaled off of one of our corner kicks, so we were level at 1-1 with a trash goal a piece.
Later in the half (I don't have times, because it was raining and rain isn't conducive to writing things down), their speedy winger #11 got through the middle of our defense, rounded Aidan, and slotted home. But sure enough, before the half was done, Matt was able to chip their keeper from around 18 yards, and we went into halftime level again at 2-2.
That's about all the soccer that was played that day.
Early on in the second half, the Bald Tank at Left Back (you'll remember him from episode one), put in an ugly tackle on Sang, coming through his ankles from behind. It was bad enough that our entire team reacted, and what all the refereeing books call a 'mass confrontation' occurred; it wasn't quite a fight, but it was definitely a flash point. Here's the catch though: the referee kept all of his cards in his pocket.
I'd never seen that before, an ugly foul followed by a mass confrontation and no cards shown. Normally there'll be at least a yellow for the foul, and then a yellow to the 'third man in', the guy who reacts to it (in this case Sam). I think the foul itself here could have been a red, but was definitely at least a yellow, and I expected one of our guys to get a yellow as well. But no, nothing. This did not bode well for the rest of the match.
Everything from then on just escalated in physicality and aggression. The players felt like the referee wasn't passing justice, and thus that they had to take matters into their own hands. Again, normally when this happens, at least the retaliation foul is punished with a card. But, true to form, nothing phased this referee we had, and the game just got worse and worse. I'll spare you the details of all the ugly challenges in the rest of the match, partially because there were too many for me to remember.
Lowlights include the aforementioned Bald Tank putting in another awful challenge, this time forcing Sang to go off injured (he at least got a yellow for that one), and Kevin tackling a dude into the trash can off the side of the field (he got a yellow, too). At the end of the match, three yellows had been given out. Talking about it the next day, Danny (Toffee Club's Manager) and I agreed there should have been four or five reds. All in all, it was a disgraceful display of officiating from a referee who seemed to be totally disinterested in enforcing the Laws of the Game, or protecting the players on the pitch.
Oh and also we lost, 5-2, although I'm not really putting much weight into the scoreline because the last 35 minutes or so of the match, it wasn't soccer being played, it was just 22 guys running into each other. Nate even said that by the end of the match, it was dangerous to the point of nobody even wanting the ball because you knew you'd just get taken out. Hardly conducive to anything resembling skilled play, and I don't think the three goals we gave up that half reflect on which team was the better soccer team.
I can only hope that the experience served to bring us together more as a team. We definitely all stood up for each other out there, which is important to see. I'm glad we have a week off to work on some things and recover from the beating many of us took before our next match.
Around the League
Elsewhere in the division, Por Que No forfeit(???) their match against Firefighters, and FC Evergreens 5-0'd Cancho giving them an absolutely insane +15 goal differential after two matches. Conveniently, the league only lets your GD go up or down by 3 each match, so it's not like that's going to make them totally uncatchable. Here are the results and standings after three weeks of league play: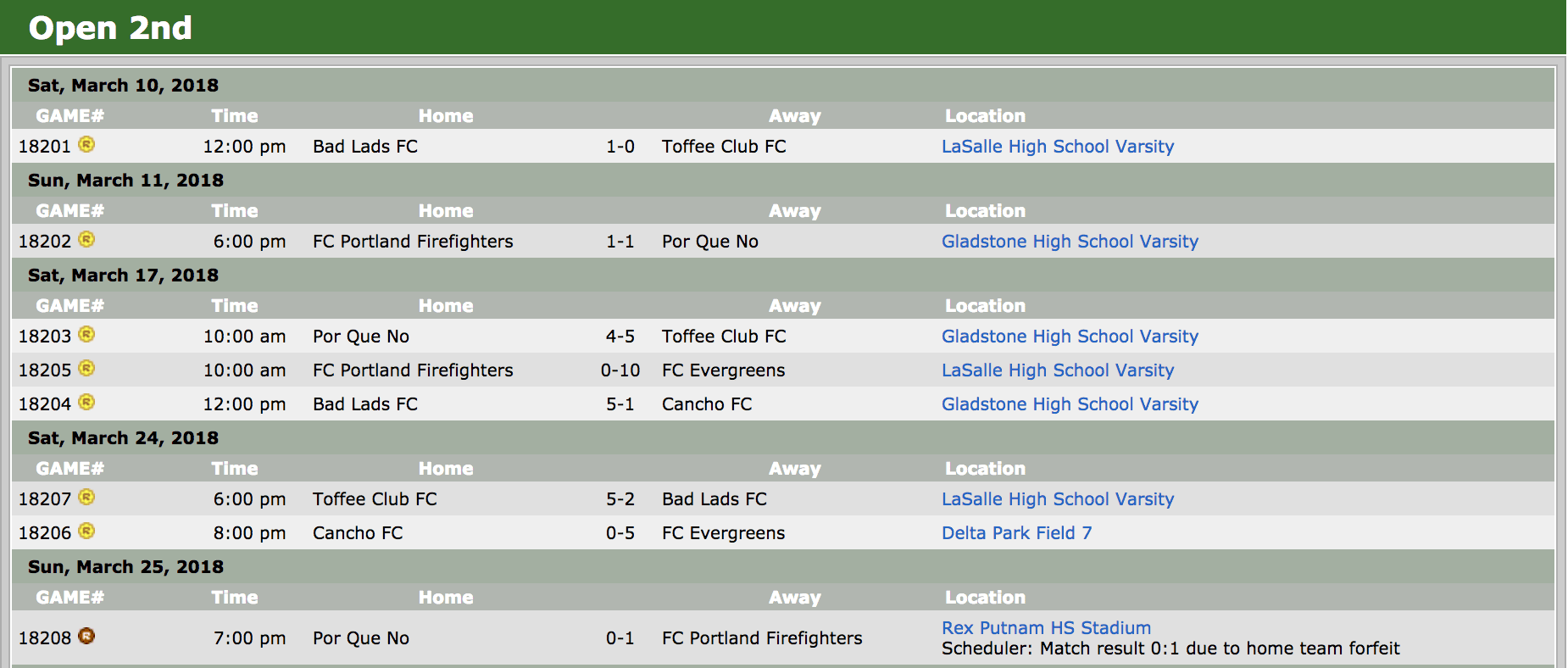 As you can see, we're in a three-way tie for first place, but Toffee Club and Evergreens play each other this weekend so we'll be either third or tied for second following that match. I'm hoping for a draw, as we want both of those teams to drop as many points as possible.
I'm also a little concerned about PQN's forfeit. That result was posted the night before the match was supposed to happen, so I'm hoping it was just a one-time thing and not that the team has folded or something silly like that.
Next Up
We have an off-week this week, so we're going to hit the training grounds on Sunday. We'll definitely work on set pieces, as Toffee Club scored twice off of set pieces against us, and we never seem to put any of ours in that aren't direct shots on goal. We'll touch on a couple other points of emphasis, but I'm only beginning to form a plan so I don't have a whole lot to talk about in that regard here.
I will say that if you want to come kick around and run some drills with us, you're welcome to join; I'm sure having some extra bodies around will be helpful. Message me for the details.
As a last note, I'm not sure if I'll post a BLFC update next week since we won't have played a match to talk about. But, I am trying to write something here on a weekly basis, so there will probably be at least a small bit of soccer talk, maybe buried in another kind of post.