"Sound bends to the whim of emotion. For YONAKA, music morphs in tandem with moods. Distortion teems with tension in moments of heavy catharsis, only to come back down in an exhale of electronic reprieve."
I've read angsty high-school poetry that was less overwrought.
"Under the late-night glow of a lunar muse, Hotel Mira crafted their latest anthem…"
"Chaos and beauty are the purest definition of BLACK MATH. With an almost cryptic sound, BLACK MATH strives to alter the universe of their listeners."
Genuinely what does any of this even mean. How can a sound be "almost cryptic"?
"Intimacy rears its powerful head in the world of mmeadows."
"At some point in the early 21st century, Radiohead became something more than a band: they became a touchstone for everything that is fearless and adventurous in rock, inheriting the throne from David Bowie, Pink Floyd, and the Talking Heads."
Yes, not even Radiohead are immune to having a truly terrible artist bio.
"The fearlessly determined and creative Ohio-based powerhouse perfected a sound sought by a generation of bands, equal parts solitary musical confession and celebratory exorcism."
WHAT IS A CELEBRATORY EXORCISM???
"The Haunt conjures a wild, youthful and stylish indifference that reflects an era when rock n' roll was 'by and for' the beautiful outcasts."
kill me now
PAUSE FOR A SECOND
wait as I was scrolling through my spotify to look at shitty bios I found this
in my liked songs and I have no memory of discovering it or ever seeing it in my life. Apparently I liked it on July 8 when I was in… Singapore? Anyway I just listened to it and it's not… it's not good. It's barely recognizable as the actual song. Kind of a fun novelty that it actually exists, I guess, but, uh, I don't recommend it.
ok back to bad bios, surely there are a few more in here
"Seen by its current members as less of a band than as a fluid, open-ended project, Hailaker (hay-ull-ache-err)…"
"Singer, songwriter, subversive performance artist, video director, and high priestess of no fucks given, Poppy…"
emphasis mine.
I would also like to remind everyone that I actually like these bands.
Some counterexamples to codify my point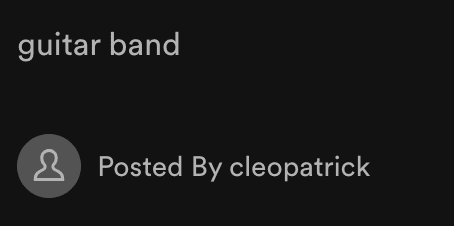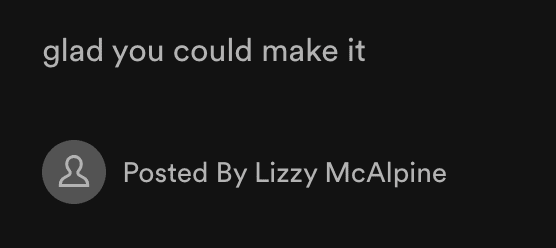 and of course my all time favorite: